انجاز نسبة 90% من الأعمال الانشائية بمشتل المنطقة الاقتصادية الخاصة بالدقم
November 14, 2022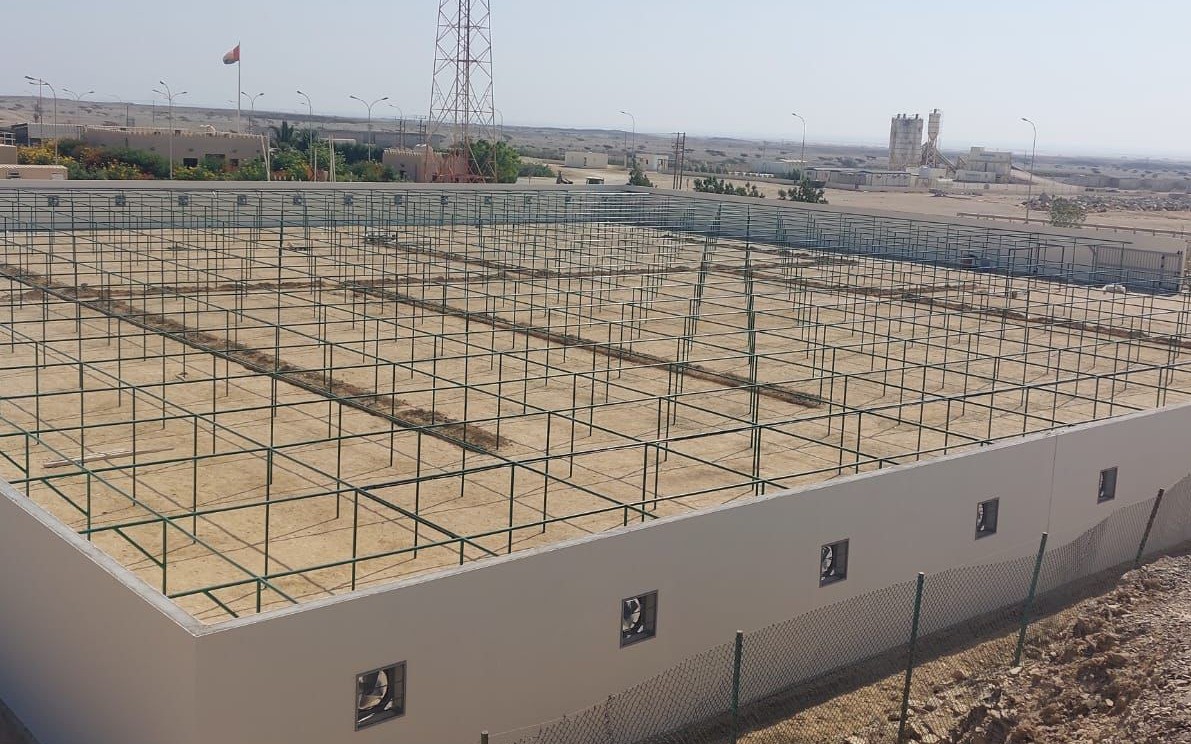 Completion of 90% of SEZAD plants nursery
Duqm – 14 November 2022
As the management of the Special Economic zone at Duqm (SEZAD) continues its efforts to increase greenery and make optimal use of treated water in SEZAD, the Public Authority for Special Economic zones and free zones (OPAZ) this year has assigned the works for setting up plants nursery, to be the first of its kind in the zone and Al Wusta governorates in general, in order to improve the urban lifestyle in the zone. The completion rate of the nursery project has recorded 90% completion. Being built on an area of 5000 square meters, the plants nursery aims to be a primary source for serving the zone's afforestation plan with plants that are well-suited with the nature of the climate in Duqm. The nursery is planned to be the basic and main incubator for the production of seedlings and ornamental trees before planting them in the gardens, parks and the shoulders of the streets. It is also considered a station for agricultural experiments and an incubator for new types of plants and trees.
In this context, SEZAD management has allocated several investment lands for the purpose of establishing agricultural nurseries in the zone, which will contribute significantly to producing species suitable for the zone's environment and reduce the costs of planting them. OPAZ, in cooperation with the Environment Authority, has allocated one of these lands for the establishment of a nursery for the propagation of wild plants under the management of the Environment Authority, whose services will encompass the initiative of planting 100,000 wild trees at the level of Al Wusta Governorate, and the implementation of the national initiative to plant 10 million wild trees.
It is noteworthy that OPAZ has assigned, in the first quarter of this year, a project to design and develop the first phase of beautification, afforestation and landscaping works in SEZAD with an estimated value of over 2.3 million riyals, which includes afforestation of several vital locations main roads, service streets, roundabouts and parks with their basic facilities, including green spaces for sitting and family gathering, multi-use recreational spaces for kids activities for different age groups and walking & fitness trails, so that they can accommodate social and cultural events and activities. It's worth a mention that modern irrigations systems will be used for the plants that comes part of the implementation plan.
Current green areas in SEZAD are about 26 thousand square meters. The executing company will plant 35 thousand square meters, that the total area with the completion of the project will be more than 60,000 square meters, including planting more than 5,000 diverse trees that fit the climatic conditions of the zone.
OPAZ launched earlier several initiatives, most notably "Plant A tree" initiative, as well as beautification works of some plans with the aim of making the zone a model of integrated economic cities that blend commercial, industrial and tourism projects & pay attention to environmental and health aspects while providing various needs of residents.