The Economic and Financial Committee of the Shure Council visits the Special Economic Zone at Duqm
March 15, 2022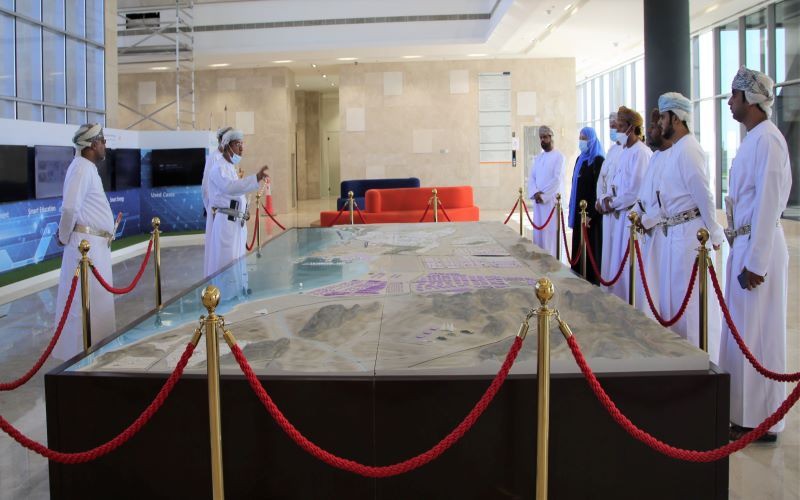 The Economic and Financial Committee of the Shure Council visits the Special Economic Zone at Duqm
Duqm - 15 March 2022
The Public Authority for Special Economic Zones and Free Zones (OPAZ), in coordination with the Shura Council, organized a two-day visit for a number of officials, representatives of the Economic and Financial Committee of the Shura Council to the Special Economic Zone at Duqm(SEZAD).
The delegation chaired by His Excellency Abdullah Salim Mohammed Al junaibi. met upon their arrival at the Special Economic Zone management building in Duqm, His Excellency Eng. Ahmed bin Hassan Al-Theeb, Deputy Chairman of OPAZ, and a number of officials from the management of the Zone.
During the visit, a number of presentations were presented that highlighted the capabilities of the Special Economic Zone at Duqm and the incentives, advantages, and facilities offered to businessmen and investors, in addition to the key facilities that characterize the zone, its location, ongoing strategic projects and the projects under construction, in addition to the services and the lifestyle in the zone.
The program also included a field visit to several projects in the zone: Oman Dry Dock Company, Duqm Port, Karwa Motors Company, Duqm Refinery Company, and a visit to the Ras Markaz project.
Their Excellencies, the members praised the experience of the Special Economic Zone at Duqm, the progress observed in the recent years, the facilities provided to investors, and the incentives and benefits that can be used in the lands affiliated to the zone. They also praised the service facilities, the infrastructure, and the electronic services which facilitated the usufruct of the lands, applications processing applications, and doing business easier.